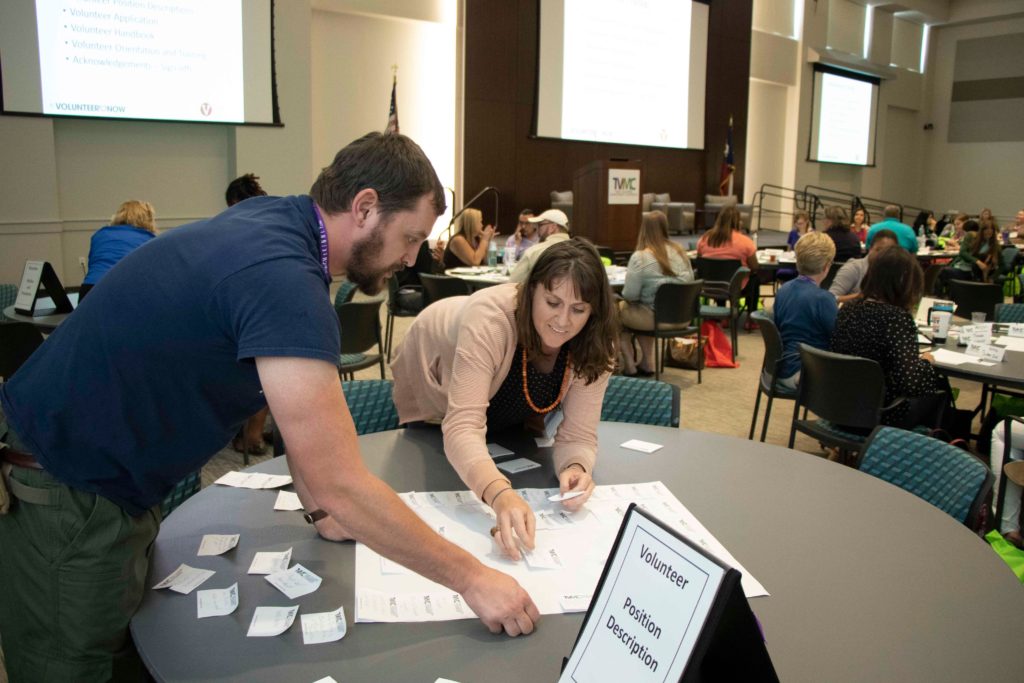 Conference Program
The 2021 Texas Volunteer Management Conference featured workshops led by speakers who understand you and your role as a volunteer engagement professional. Click through the drop downs below to get more details on each session. You may be thinking… "there are multiple sessions I want to go to at the same time." We recorded every session and provided registrants with access afterwards so they could go back and watch any that they missed.
To view more info about each session, click the + sign to the left of each time.
Join TVMC as we welcome all guests to the conference and hear from our Thursday plenary speaker, Ashley E. English, Ph.D.
Stop. Look. LISTEN! – Taking Inventory of Yourself and Your Volunteer Program through Listening
As we reimagine the future of volunteerism, it can be a daunting task to tackle alone. One way to reduce the load of reinvention is to engage in a commonly overlooked skill – listening. In this opening plenary, Dr. Ashley English addresses the importance of listening to your personal rhythms as both a form of self-care and an element of authentic leadership. She then turns our attention to the importance of listening at the organizational level in ways that allow feedback from volunteers, clients, collaborators, and the community to help shape the future of our volunteer programs. Walk away from this session refreshed and equipped to listen and lead well.
Rob Jackson, FRSA: Understanding and Engaging Today's Volunteers
This session will look at some of the key ways in which society is changing (not just because of Covid-19) and how these changes affect volunteerism. We will also discuss what leaders of volunteers can do to update their practices to accommodate these changes, further enhancing their engagement and retention of 21st-century volunteers.
Track: The New Volunteer Manager
Stephanie Canfield, CVA: Connection is the Key to Communication
Are you feeling drained, lethargic, uninterested in pivoting? Have you zoomed out? Do you have a hard time understanding the "new normal?" Are you feeling disconnected even though you're connected electronically? Learn practical tips to help you connect, navigate, communicate and lead volunteers in a world that we don't always understand.

Track: Connecting in a Disconnected World
Cairn Reisch, CVA and Rachel Woodman: Take Charge and Advocate for Your Future
As nonprofit professionals many times we get sucked into feeling like our job is our purpose in life, instead of treating it as an opportunity to leverage our skills and experiences to do good. In this session we will break down myths and common feelings Volunteer Managers have around or role in our organization and plan your next steps to advocate for your future. Leave this session feeling proud of your skills, empowered to speak up in your organization and ready to share with the world just how awesome you are!

Track: The New Volunteer Manager
Sam Santiago, CDE: Inclusion: The Final Frontier of a Successful Volunteerism Strategy
Emotional intelligence is central to understanding the needs of others and how as an individual you fit into contributing to finding solutions for the plight of the communities where we live, play, work and pray, particularly those communities that are chronically under resourced. Biases and other systemic forms of exclusion and inequities have contributed to a slewed perspective of what is volunteerism and who's responsible for addressing the needs of others. From inception, volunteer service in the Western world has been seen as the privilege of the wealthy and the responsibility of the masses. Many communities of diverse backgrounds have been the recipient of the philanthropy and charity of the wealthy and others in positions of privilege, yet most have had to survive on the sense of duty and sacrifice of a small number of members of their own communities. What does it take to deliver volunteer service through the lens of inclusion and equity?
Track: Emotional Intelligence on the Front Lines
Hee Soun Jang, Ph.D., Laura Keyes, Ph.D., and Brian Collins, Ph.D.: Findings and Discussion from Recent Volunteerism Survey
Using data from a scientifically valid population survey of the DFW completed in January 2021, the research team from the University of North Texas will discuss the impact of COVID-19 on volunteering in the region. Two questions will be addressed. First, to what extent to COVID-19 influence volunteers and how? Second, how did volunteers working in positions related to COVID-19 differ from typical volunteer workers? Understanding the consequences of COVID disruptions shows new opportunities for growth in the volunteer sector.
Track: Virtual Engagement 2.0
Attendees will have the opportunity to meet other professionals working in similar industries and organizations as their own to address the unique challenges they face. Examples of industry rooms include animal welfare, arts and humanities, education and research, human services and governments. Guided questions and discussions will be led by a member of the TVMC team.
Liza Dyer, CVA: Digital Inclusion Basics in Volunteer Engagement
It's 2021 and technology use is now an expectation in volunteer engagement. We use it in digital communications, databases, training, and more. If you feel overwhelmed by technology from time to time, you're not alone. Many volunteers feel the same way. In our efforts to do more online—and from a distance—we may be unintentionally deepening the divide between our organizations and volunteers. This, in turn, hurts the communities we're serving by not being able to involve the volunteers we need. In other words, technology can create barriers. So how can we ensure volunteering is accessible? First we can understand major digital inclusion issues. Then we can make changes to our current practices and bring volunteers along with us as we utilize more technology tools now and into the future. Some changes will be simple and others will take more time and commitment, but they're all worth it.
Track: Virtual Engagement 2.0
Karen Reid, MA, CVA: People First: Communicating to Cultivate Thriving Volunteer Teams
Now that we're accustomed to balancing our professional duties amidst the significantly shifted workplace and home environments of COVID-19, it's time to refocus our attention on our most important asset – our people. Join us for an interactive exploration of the best practices and essential elements of communication and engagement and glean methods to help you enrich your volunteer culture while confidently supporting and leading vibrant teams. You'll come away with tips and techniques to help you upgrade recruiting strategies and motivate through recognition; communicate needs, outcomes and impact; scale solutions to fit your teams and budget; and lay the foundation for future growth through succession planning while keeping your teams enthusiastic, empowered, energetic and engaged.
Track: Connecting in a Disconnected World
Beth Steinhorn: "Real" Best Practices for Virtual Volunteers
More and more organizations have begun to rely on a blended workforce – with staff and volunteers working on-site and on-line. However, due to the coronavirus pandemic, engaging volunteers virtually is now the only way for many organizations to sustain current volunteers and engage others in their mission. In this session, we'll explore how to identify needs that can be addressed by virtual volunteers and share tools and tips to adapt best practices in engagement to the virtual arena. At this challenging time, you can still engage volunteers while keeping them, your staff, and the community safe – and, by establishing systems now for virtual engagement, you'll build your capacity to engage volunteers for years to come.
Track: Virtual Engagement 2.0
Susan Steinbrecher: Meaningful Alignment: Connecting Beyond Our Differences
Recent events all signal the need for us to have the skills to conduct a difficult often emotionally charged conversation for the purpose of aligning with another-while at least preserving if not enhancing the relationship with another. In order to accomplish this goal we need to have this conversation with emotional composure and resilience. Meaningful Alignment is a way of communicating without criticism, listening without judgement and connecting beyond our differences.
Track: Emotional Intelligence on the Front Lines
Judy Shannon, MS, CVA: Volunteer Engagement 101
Have you been put in charge of volunteer engagement with little or no training? Are you trying to establish or re-establish a volunteer program for your organization? Studies tell us that a majority of organizations have not adopted volunteer management practices that might be helpful in their efforts to attract, serve and retain volunteers. Let us help you identify specific steps you can take to build more successful volunteer engagement for your organization. During this foundational course, we will review the key components of a quality volunteer program. A benchmarking assessment tool will help you identify your program's current strengths and opportunities and evaluate the readiness of your organization to successfully engage volunteers. You will also receive a worksheet to help you set priorities and identify next steps appropriate to your agency's needs.
Track: Virtual Engagement 2.0
Regroup with everyone to share key takeaways and hear about what to expect for the next day.
Join other attendees at a casual networking event where you're sure to leave with new friends and a few laughs.
Dr. Stacia' Alexander, LPC-S: The Emotionality of Servanthood
The pressures of being a helping professional are gaining more attention now because a generous portion of the population is tasked with this endeavor now considering we are in the midst of a worldwide pandemic. In spite of the increased numbers in the profession, far too often people suppress how they are genuinely coping with their experiences just to push through the day. This address will highlight the danger zones of servant hood in terms of self-preservation and provide foundational skills for creating a balance based on four levels of accountability; spiritual, professional, relationships and self-care. Dynamic verbal and auditory content to keep the audience engaged with a personalized website to utilize after the presentation for continued use.

Helene Flaxbeard, Volunteer Service Officer, American Red Cross | North Texas Region
Cassie Collins, Director of Volunteer Operations, North Texas Food Bank
Victoria Seng Nelson, MPH, Corporate and Community Engagement Manager, Catholic Charities Fort Worth
Hear from volunteer engagement professionals who were on the front lines during the COVID-19 response effort as well as the extreme weather experienced in Texas during 2021. Take lessons from panelists to bring back to your own organization as you prepare for the unexpected.
Nicole R. Smith: Advisory Teams that Move the Needle
A solid advisory team can help change the trajectory of and build the comradery of your program. Learn the how-to's of creating a productive advisory team (all the logistics involved: how to start, how often to meet, type of content to discuss, length of term etc.); how to maximize the potential of advisory teams; and how to mitigate your advisory team to become an extension of your reach and a way to build trust between your volunteers and yourself.
Track: The New Volunteer Manager
Dr. Jennifer Blalock: Leading Strategic Change in the Social Services World
Leading Change in the Non-Profit & Social Services world will provide a change leadership framework to help position non-profit and volunteer management personnel to not only prepare for change, but to thrive in and develop from the experience. Participants will be introduced to several change leadership models; be given a change leadership assessment tool; and provided a template for leading and managing change successfully.
Track: Connecting in a Disconnected World
Barry Altland, MAOL: Elevate Training To Be Part of Your Volunteer Engagement Strategy
As a Leader of Volunteer Engagement, are you called upon to lead training for your volunteers? How prepared are you to create interactive, highly engaging training that enhances learning through self-discovery? Sessions that draw learners into their own rich and timely learning experience? Learning events that do more than just run through a prepared presentation and a stack of text-laden PowerPoint slides? Training that prepares learners to apply what they learned, perform more effectively, and achieve better results for your mission? All while immersing them in a more meaningful, enjoyable experience? If you wish to elevate your role from one-way "presenter" to a "facilitator of learning", this is the session for you! Your volunteers deserve it, because the way they are engaged in training is part of their engagement equation in support of your organization and your mission!
Track: The New Volunteer Manager
Dana Litwin, CVA: Hold 'Em or Fold 'Em: How to Inspire, Move, or Fire Challenging Volunteers
Every interaction with a volunteer is an invitation to stay, or an invitation to go – and sometimes, it is time for them to go! This funny and engaging session explores the serious and dreaded topic of what to do when a volunteer has worn out their welcome, with communication techniques and examples to ensure a challenging situation ends with the best results for all. At the end of this session participants will have practical communication skills to apply to the most emotionally charged and challenging situations. Participants will develop emotionally neutral responses via role-play, examples, and practice exercises to create a win-win for the agency and the volunteer.
Track: Emotional Intelligence on the Front Lines
Brittni Coe, CVA: Remote Control: How to Successfully Manage in-person Volunteers , while Working Remotely
As the pandemic continues, virtual and remote volunteer opportunities are reaching a saturation point. How can organizations without virtual service opportunities compete for, and truly connect with prospective volunteers? How do Directors of Volunteers face the increased challenge of recruitment, retention, and management of in-person volunteers when working a hybrid or fully remote schedule? This session will explore: Tips to attract, engage, and manage in person volunteers while working hybrid or remote schedules, how to manage the potential decrease of long-term volunteers and the potential increase of episodic volunteers, and how to use virtual tools recognize and appreciate in-person volunteers.
Track: Virtual Engagement 2.0
Beth Steinhorn: Reshaping Our Rules of Engagement: Harnessing Volunteer Power to Fuel Recovery
Our sector has evolved over generations to leverage the changing landscape of volunteerism, but this past year has certainly delivered more change than ever before. The pandemic transformed how organizations attract, engage, and retain qualified volunteers. What lessons can we learn from the challenges introduced by the pandemic and what role will you, as a leader of volunteers play, in harnessing volunteer power to fulfill your mission in the years ahead? From online training and virtual volunteering to new approaches to retention and community-building across a hybrid workforce, join Beth Steinhorn in this exploration of how you can lead the way in rewriting the rules of engagement in this ever-changing world.
Tracey O'Neill, CVA: Key Steps to Effective Volunteer Engagement in a Post-Pandemic World: Rethinking the Volunteer Engagement Cycle
In recent years we have tracked changes in volunteer expectations – their demand for flexibility, opportunities to develop their skills and to have pathways to employment, connection with their community and evidence that the work they do makes a difference. We have simultaneously seen a reduction in the hours volunteers contribute and the length of time they stay in their role. Across the world the current global pandemic has accelerated the need for us to respond to these changes differently to ensure the sustainability of our programs. The often-cited Volunteer Engagement Cycle is a model that many have used to frame their volunteer engagement work, but it is outdated and can limit our ability to successfully engage volunteers. In this session we will explore a reimagined Volunteer Engagement Cycle – one that supports thinking strategically, that helps us achieve the outcomes volunteers are seeking, and that can lead to increased impact. Come and challenge what you thought you knew, reimagine your role as a leader of volunteer engagement, and find new solutions to ongoing issues.
Track: The New Volunteer Manager
Julia Campbell: How to Drive Volunteer Engagement with Social Media
The COVID-19 pandemic, a polarizing political climate, and calls for racial justice have upended the entire nonprofit landscape. It is no longer business as usual for volunteer managers. With all the noise on social media as well as serious legal and ethical considerations clouding the platforms, how can nonprofits continue to reach their volunteers and spread their messages online? How can you re-focus, re-prioritize, and get yourself back on track with your social media marketing? In this workshop, social media and digital marketing expert Julia Campbell will walk you through the secrets to successful building your volunteer program with social media. Participants will also get digital access to her Social Media Checklist and Social Media Matrix.
Track: Connecting in a Disconnected World
Dr. Laura Keyes and Dr. Norman Dolch: Cast Your Net: Leveraging Technology in Volunteer Management
This session explores the role of technology in volunteer management. Session participants will consider and discuss the latest in how technology is being used in the nonprofit sector to connect with potential volunteers, recruit volunteers, and to manage volunteers. Specifically, presenters will provide a framework for data collection through a volunteer management systems from basic methods such as volunteer applications and interviews to advanced customer relationship management (CRM) and information technology platforms. Participants will explore opportunities for data collection, data maintenance, record keeping, storage, and information security through a range of platforms including organizational website, social medial and third party hosting sites. Participants will apply key data and technology concepts to volunteer management case studies and evaluate alternative scenarios related to data collection, data management and data security. Individuals will collaborate with peers to develop potential IT solutions for volunteer management in response to the case study dilemma.
Track: Virtual Engagement 2.0
Susan Sanow, CVA: Managing Up for Volunteer Managers

Whether or not you are officially the boss of anyone or even if you have the word "manager" in the title, chances are that as the leader of volunteers, you are managing people, projects or both! We will consider your roles as a leader to your volunteers as well as the other leaders in your organization. We will talk about determining what volunteers really want and what your boss really wants… and how to adjust your work practices whether managing up or down.
Track: The New Volunteer Manager
Beth Steinhorn: Nurturing a Team in a Hybrid World
Whether volunteers serve on-site, off-site, or from their living rooms, ensuring that volunteers feel a part of something bigger than just themselves can transform one-time volunteers into truly engaged and committed volunteers. Individuals often start volunteering to make a difference, but they stay when they develop relationships and feel a part of a team. In this session, discover tactics based on 7 research-based principles of community-building to nurture your team of volunteers by structuring virtual roles, leveraging social media, strategically designing communications, checking-in regularly, and celebrating together – even if virtually. Remember, individuals often start volunteering to make a difference, but they stay when they develop relationships and feel a part of a team. So, building those relationships and nurturing community among virtual volunteers today will serve your future well. Participants will receive a Volunteer Teambuilding Checklist to use in their own work.
Track: Emotional Intelligence on the Front Lines
This will be an opportunity for attendees to speak one-on-one with some of speakers in individual rooms to dive deeper into specific questions, make connections and work through tricky situations.
Regroup with everyone to share key takeaways, say goodbye to colleagues and start looking forward to TVMC 2022!
I got new ideas on how to re-engage with our volunteer base and confirmation that many other organizations are in similar situations and responding similarly as well.